NASA CCiCAP funding for SpaceX, Boeing and SNC's crew vehicles | NASASpaceFlight.com
See on Scoop.it – The NewSpace Daily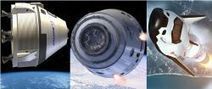 NASA's Commercial Crew integrated Capability (CCiCap) initiative award winners were announced on Friday, with SpaceX, Boeing and Sierra Nevada Corporation (SNC) all winning agency money to develop their vehicles to the next stage of providing domestic access to the International Space Station (ISS) for US astronauts.
The follow-on to the Commercial Crew Development (CCDev-2) process provided little by way of surprises, with all three CCiCAP award winners making good progress under their current NASA contract.
"Today, we are announcing another critical step toward launching our astronauts from U.S. soil on space systems built by American companies," NASA Administrator Charles Bolden said at the agency's Kennedy Space Center in Florida.
"We have selected three companies that will help keep us on track to end the outsourcing of human spaceflight and create high-paying jobs in Florida and elsewhere across the country."
See on www.nasaspaceflight.com